street profile picture scroll at Omoide Yokochou(Memory Lane)
¡Exhibition
œExhibition 2008
In the exhibition 2008, Street Profile Painting Scroll of Yanagi-dori (willow lane) 2007 and 2008 were hanged and shown along the JR line; and the store employees wore shirts in which each shop's part of Street Profile Painting is printed.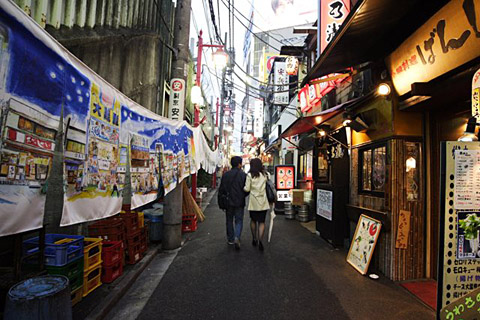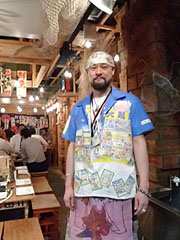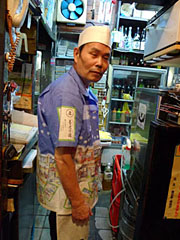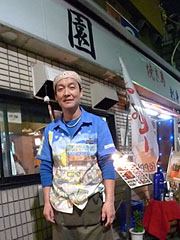 &nbsp
œExhibition 2009
In the exhibition 2009, Street Profile Painting Scroll of Yanagi-dori (willow lane) 2009 was shown with 2007's one and 2008's one. Not only on the street but also in shops(torien and Daikokuya), our works had been exhibited and visitors and the shop owners were pleased by that. The flags with words which guests mumbled in painting Street Profile Line Image flied on Naka-dori street and I named this exhibition Mumble Gallery. You can see this video on YouTube.
yIsuzuz
The work painting dwarfs created from the little things placed in the shop was shown on the wall of Isuzu.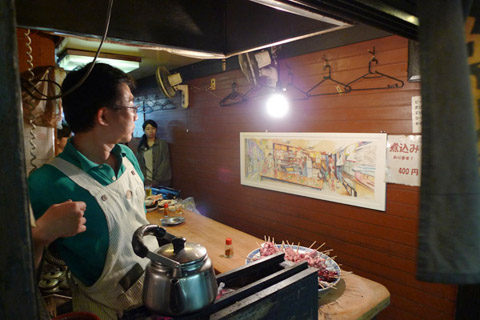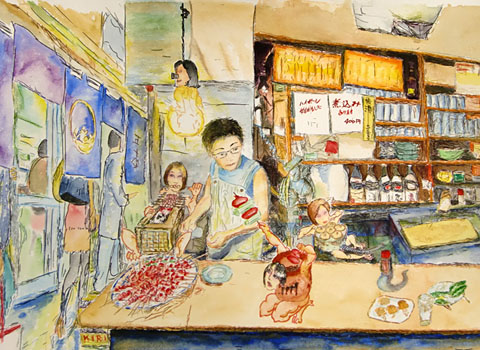 yDaikoku-yaz
Street Profile Painting Scroll 2008, 2009 was shown on the walls in Daikoku-ya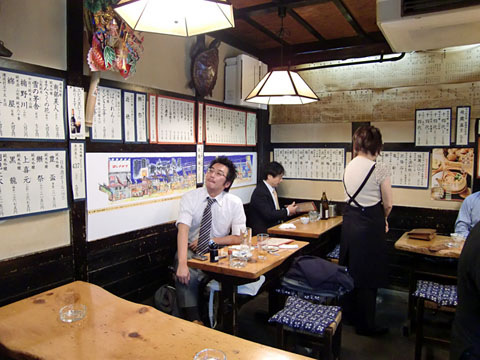 yTorienz
These were Street Profile Painting Scroll 2008 and 2009 on the wall of Torien(the upper one is 2008's and the lower one is 2009's).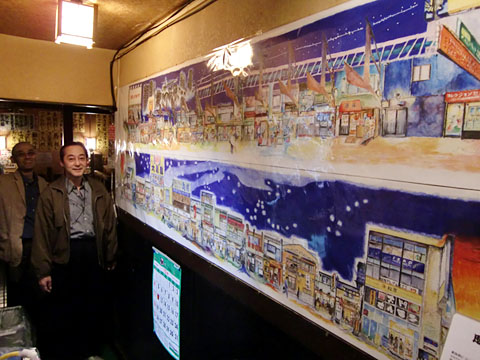 yOmoide Yokocho Mumble galleryz
A total of 18 flags of street profile painting with mumble were shown. on the Naka-dori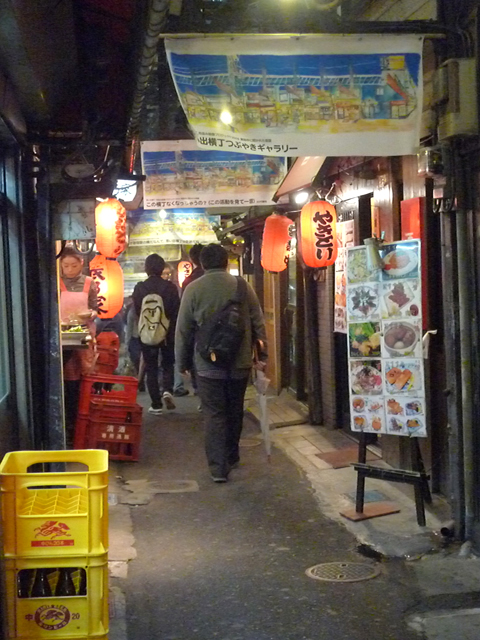 yOmoide Yokocho Mumble gallery You-Tube in Japanesez
During this exhibition, the activity drawing the memory of Omoide-yokochou(memory lane) was broadcasted by NHK TV program.
œExhibition 2012
We asked participants about their memories at Omoideyokochou and about how they want Omoideyokochou to be developed in the future during street-profile-painting-session. Someone said that it's good to put whole of Yokochou into new big building for conservation purpose. We adopted this opinion and painted big empty building on the background of Street Profile. In our exhibition, we juxtaposed this year's Street Profile Picture Scroll and that of 4 years ago in a sheet. You could see changes of Yanagi street between 4 years by comparing two Picture Scrolls.