street profile picture scroll at Omoide Yokochou(Memory Lane)
¡Creation of the Picture Scroll
œOutline of this workshop
Since 2008, the painting workshop in Omoide-yokocho (Memory allay) had been held.
The aim of this workshop is to compreat painting Omoide-yokochou with all together to collect memories and comments about Omoide-yokocho and to create a work from collected things. We asked working staff, guest and chance passersby in Omoide-yokocho to paint the line drowing of Omoide-yokocho. Painting it is much easier than drawing it. The line drawing has already been created so they can talk about memories about Omoide-yokocho while painting it.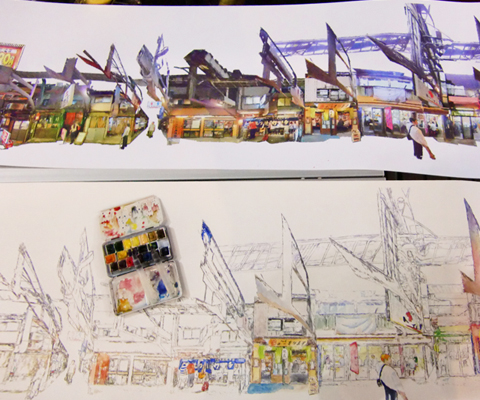 œProcedure
While seeing a sample, you paint a line drawing laid on the table with watercolors. Because lines of the line drawing have color, you can paint easily. We ask the people there to paint the line drawing and we record memories and comments about Omoide-yokocho at a workshop site. Finally, We get not only Omoide-yokocho street profile painted by many people but many memories and comments about Omoide-yokocho.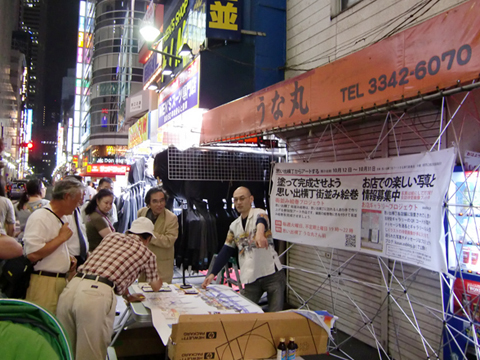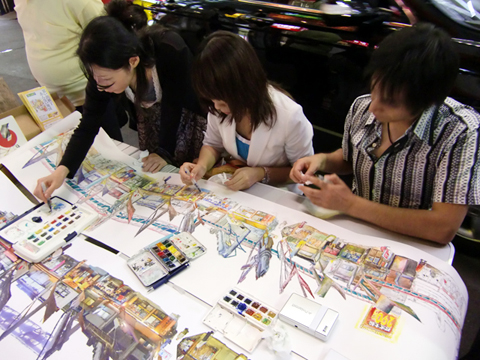 œExpansion
The primary work is Omoide-yokocho Street Profile Painting and we create many goods from the painting ;Omoide-yokocho aloha shirts ,Omoide-yokocho towels, and so on to create more conversation about Omoide-yokocho.